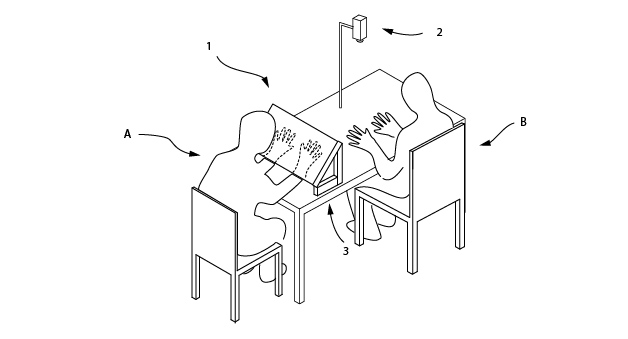 In this experiment, which is now renamed the 'Alien Hands Experiment' one participant [A] places their hands under a flat-screen monitor. They then see what seems to be their own hands under the screen when in fact these are someone else's hands [B] who is mirroring their actions. The effect can be quite uncanny especially if the appearance of the hand contrast with their own [in scale, age or colour. Participants work together to lead or mirror the movements of what appears to be their own hands under a screen. After a short time, participants experience strange sensations which oscillate between a loss of agency over their own hands and feeling agency over someone else's hands.
Action Intention Paradox uses a flat-screen video monitor [1], mounted on a frame [3] which elevates the screen in such a way it is possible for participant [A] to place their hands underneath it. A video camera [2] is mounted above the table and is focused on the hands of the participant [B]. The live footage is fed directly to the screen [1]. The screen [1] and camera [2] are positioned in such a way that it seems as if participant [A] can see their own hands underneath the screen. However, participant [A] actually sees the hands of the participant [B]. participant [B], sat adjacent to [B] can see participants [A]s hands under the screen, and can now copy or lead movements for [B] to copy. [This is similar to the methods used in the simulated out-of-body illusion or hand-shake illusions In which synchronous body movements are used as the stimuli to draw participants into the illusion.]
This work was developed in conjunction with the Unfeasible Object workshop.  This experiment would make an ideal initiation activity to be used with the Autoscope as part of a workshop. This work is being developed further as part of the research project Experience in Action.
See Action Intention Paradox Instructions
PhD Exhibition instructions: Roll over the gallery plan above and click on the links; this will take you through a series of pages that constitutes the online exhibition, each page contains this same gallery plan. If you get lost in the blog, you can return to the exhibition via the 'PHD EXHIBITION' link in the main menu at the top of the page. [ See the exhibition press release here >>>]