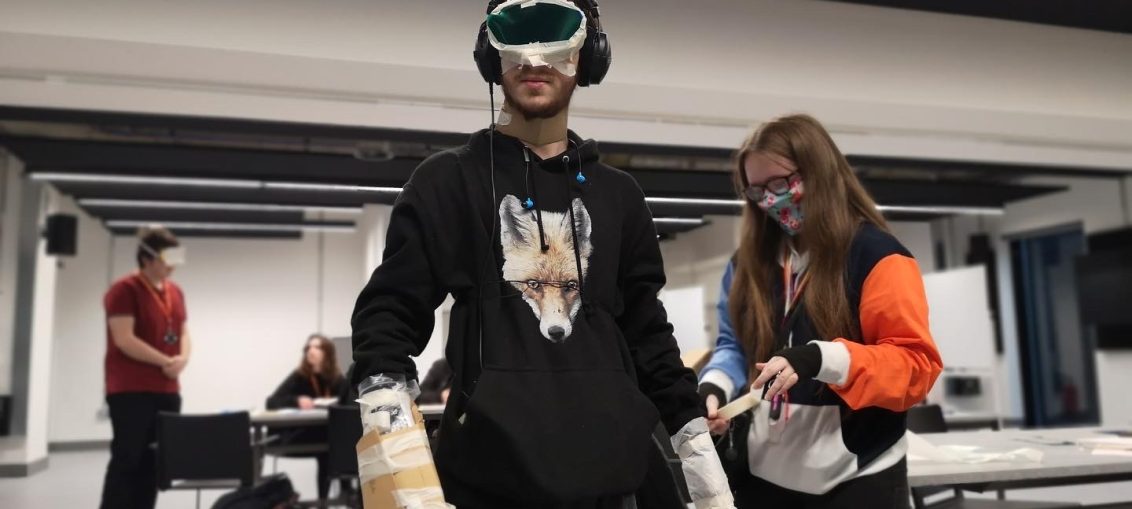 These workshops took place at the School of Digital Arts (SODA) as part of the 'Co-Lab' unit, which is intended to get students working collaboratively across disciplines (Game design/sound/future media/film/photography). The 'messy interface' brief asked students to address the complex interface between real and unreal. My workshop was designed to get students working together and thinking about how our senses interact and how we can hack, or creatively disrupt the sensory interface.
We looked at the long history of perception-changing technologies; from the microscope to early VR experiments, and the many strategies both artists and scientists have used to disrupt these technologies. After exploring some perceptual illusions and discussing our experiences, participants designed their own multisensory experiments that restricted, augmented, or expanded the senses. Simple materials were provided; card, tape, and other found materials. In some cases, we further augmented the devices with sensors to expand the sensory field into the electromagnetic.
The students used their wearable devices to explore different spaces around SODA. We discussed how these sensory disruptions, experiences, and interventions altered behaviour and our interactions within the space.