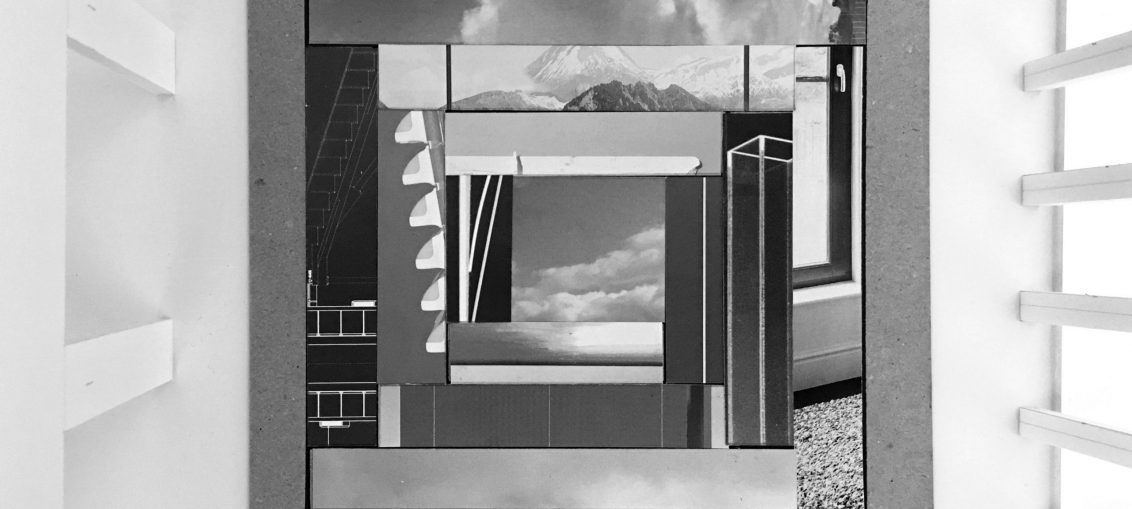 PROXIMITY; An enquiry into the spatial and social elements of practice as research.
Anne-Marie Atkinson | Ann Carragher | Antony Hall | Jackie Haynes | Rebecca Howard |Sarah-Joy Ford.
26 Aug – 16 Sept*
*Window Gallery visible 24/7
*Upper Floor Project Space open Fridays and Saturdays 11-4pm or by appointment

Proximity is a collective of 6 artists interested in the spatial and social elements of practice-as-research (est. May 2019). We have met online weekly since lockdown began, and have developed our approach of "convivial aesthetics" in the virtual realm. Through these meetups, we have provided professional, creative, and emotional support for one another – spending more time in proximity to one another, digitally in each other's homes. Together we have taken part in several residencies, where our proximity to each other has created new ideas, ways of thinking and strategies for making and thinking art. We have run workshops, as well as launched our mail art project 'POST IT' that has been presented and discussed at a variety of online symposiums, events, and conferences.
Proximity provides a community and a social space to make, write, think, present, share, test and disseminate practice-as-research. Proximity constitutes togetherness and separateness. It performs as a space to recognise our individual and shared goals, ideas, plans, methods and processes.

Anne-Marie Atkinson is an artist and PhD candidate with VC Scholarship at Manchester Metropolitan University. Their research asks how intellectually disabled artists are informing contemporary art.
Anne's interdisciplinary practice is hinged on collaboration. Interested in the social relations inherent in art, as well as its transformative potential, I have taken dialogue, touch, gesture, listening, negotiation, response-ability and 'becoming-with' as my tools.
Choosing materials that are sensitive to the experience and desires of the people, place, time and issues worked with. Often starting with photography, video, writing, drawing and performance to work spontaneously while engaging feminist ethics of care. Transparency, light, barely-there marks, repetition /with variation, and physical and digital layering and manipulation are employed to open up or flatten multiple dimensions, speaking to the unresolved nature of our social relations. Their practice-led PhD research is carried out alongside seven artists with learning disabilities (individually) to examine how their relationships to their practice correlate with, develop, or contest existing notions of inclusivity in contemporary art. While revealing and tackling barriers to access, the research also seeks to put artists with learning disabilities at the centre and ask what aspects of their way of practicing provide an enviable model for artist everywhere.
www.annemarieatkinson.co.uk
Ann Carragher is a practicing artist and lecturer in Fine Art, living and working in Blackpool. Originally from Newry in Northern Ireland and is currently a practice–based PhD candidate at MMU. Ann's visual art practice is interdisciplinary, and her research explores the concept of liminality applicable to debates concerning borders and identity; more specifically, her research mediates on a particular area of border territory known as the 'Gap of the North', between Northern Ireland and Ireland.
Ann presents works that weave together notions of loss and lament, by exploring the ambiguous and allusive qualities that manifest (physically and psychologically) in the intersection between space, place, mobility, and memory.
anncarragher.com

Sarah-Joy Ford is an Artist and Post-graduate Researcher based in Manchester. She works with textiles to explore the complexities and pleasures of queer communities, histories and archives. Her practice sits at the intersection of digital and traditional: using strategies of quilting, digital embroidery, digital print, applique, and hand embellishment.

She is the recipient of an NWDTCP award for her PhD research examining quilting as a methodology for re-visioning British lesbian archive. Current work created in response to the Lesbian Archive Collection at Glasgow Women's Library is exhibited at HOME Projects, Manchester, entitled Archives and Amazons. Ford is a co-director of the Queer Research Network Manchester, an interdisciplinary network connecting postgraduates across the Manchester Universities and a member of the practice-based research collective Proximity. Exhibitions include Banner Culture, British Textile Biennale (Blackburn), Queen, COLLAR (Manchester), and Weaving Europe: The World as Mediation, Shelly Residence (Paphos). Independent curatorial projects include The Guild: Contemporary Textiles, Templeworks (Leeds) and Cut Cloth: Contemporary Textiles and Feminism, The Portico Library (Manchester). She has been commissioned by The Yorkshire Year of the Textile, Artichoke, The Pitt Rivers Museum and Superbia.
https://homemcr.org/exhibition/sarah-joy-ford-archives-and-amazons-a-quilters-guide-to-the-lesbian-archive/
Antony Hall is an interdisciplinary artist and educator who creates installations and workshops inspired by science. Recent works have used fluid mechanics, light, kinetic energy, and electrogenic fish, to create multimedia installations. He has exhibited and performed internationally and undertaken numerous commissions. Antony was a resident artist at UMISTs Fluid Mechanics Lab 2001-04, Manchester Natural History Museum 2005 and Loughborough Universities Underwater Acoustics Laboratory 2009. In 2006 he completed an Arts Council International Artists Fellowship with the Centre National de la Recherche Scientifique and ENSAD Paris which led to the ENKI project 2006-2012. He is also a member of Owl Project collective who are known for work which intersects craft and technology. Most recently Antony was awarded an AHRC NWCDTP scholarship for his current PhD research in the field of art and experimental psychology, exploring multisensory perceptual illusion at MMU.
www.antonyhall.net/blog

Jackie Haynes is an artist and art practice-based researcher in the final stages of a doctoral study of selected aspects of German artist Kurt Schwitters' legacy, often referred to as 'Merz,' the neologism associated with his literary and artistic output.
Jackie has a textiles background and founded House of Haynes, a costume design, manufacture, hire and wholesale business, which ran for 17 years in Manchester's Northern Quarter. She returned to education in 2012 to study MA Textiles at Manchester Metropolitan University, where an interest in Kurt Schwitters, Merz and its associations with Dada began. Her PhD inquiry at the University of Cumbria examines Schwitters' motifs which migrate across his artistic and literary forms and his involvement in the avant-garde networks, particularly De Stijl and Dada, which nourished her work.
houseofhaynes@gmail.com
https://jackiehaynesartwork.wordpress.com

Rebecca Howard (b.1989), is an artist and academic living in Sheffield and working at Derby University. Through her practice, Rebecca engages with photography, sculpture, and installation to consider the ways in which photographic images mediate and shape our experiences of the built environment.
Her recently completed PhD practice-research (Manchester School of Art) investigates the spatial and dimensional qualities of the photographic paper-print and its capacity to generate form and reconfigure interior space.
www.rebeccahowardphotography.com