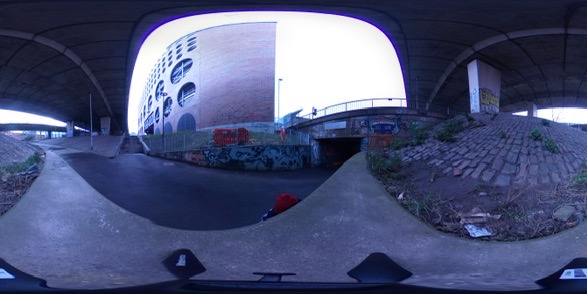 Notes on basic editing of 360 footage from the Rico Theta V using iMovie from immersive experience workshop.
Once your films are transferred from the Richo Theta V camera to your device in the app you have two ways to edit this footage. Firstly, using the app to do basic edits and upload directly to youtube, or importing the video to your phone or desktop and then editing it using Imovie or Premier. Here is a basic guide specifically for the Richo Theta V.
Use the Theta + APP:
The easiest way seems to be to use the Richo theta+ app to do basic edits. From the app., you can share directly to YouTube in 360 VR format. See Richo + tutorial here

Export and edit in iMovie or premier:
In the Theta app., you can share the file to your photo reel on your phone, or plug in the camera and import it to your editing platform. However – importing directly from the camera to iMovie imports a side by side projection and there is no way of adjusting this to the stretched rectangular projection that we need (In premier there are more advanced options for working specifically with 360 media. Other cameras such as the Vuze XR seem to output the rectangular projection which can be easily edited.
When saved to your photo reel from the app, it apereas in the stretched rectangular projection. This can then be imported into iMovie, edited as normal. Once uploaded this rectangular image is mapped onto spherical format which can be viewed on youtube as the Stereo/monoscopic VR format – which we can view on screen, move around using a phone or finger/ or use the VR goggles and look around the inside the video sphere.
See the example here…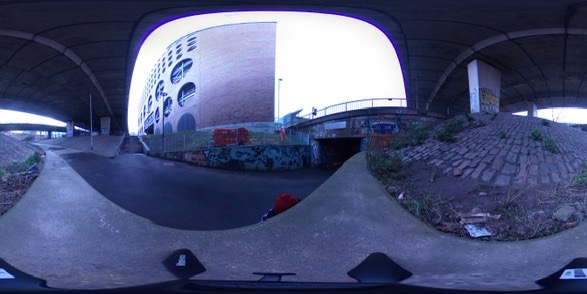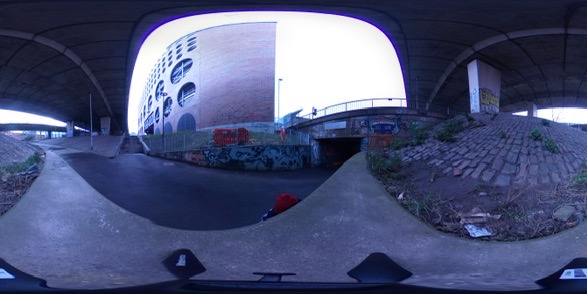 To edit in iMovie/premier:
1- Export from the app to your phone to your photo reel as a file.
2- Import this file to iMovie – it will then be in the rectangular projection.
3- Edit this as a normal film in iMovie/premier then export the film to desktop.
4- Inject Metadata: Metadata needs to be injected into the file before it's uploaded to youtube. Use the Spatial Media Metadata Injector v2.1 App or similar, download it here. Use the app. to open the file, select 'my video is spherical (360)'  and save it as a new version before uploading to youtube – youtube will now give this full VR mon/stereoscopic viewing functionality.
In the following example – the file was uploaded via the Theta+ app. Using a phone – viewed via youtube you will have the option of stereoscopic viewing and interaction. [Link to video on youtube].