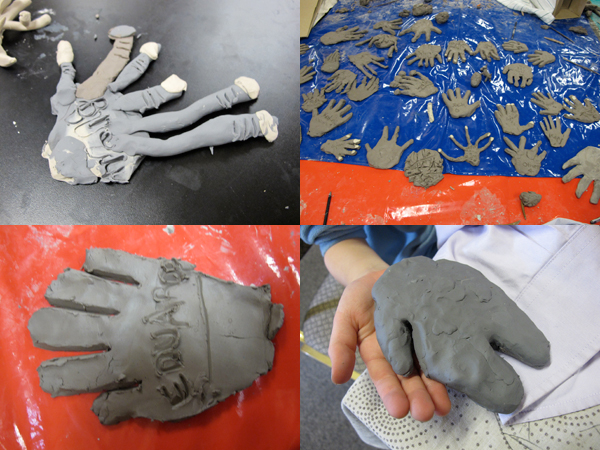 Working again with Lizzi Lewis of BEAM Lab and Manchester Science Museum we developed a workshop based on the 'Rubber Hand Experiment'. As we had to work with a large number of people and we didn't have funding to get loads of rubber hands. So we made the hands in the workshop with clay and used gloves full of different materials, sand, gel, lentils, etc. This had some interesting outcomes, that warranted further research…
As you can see the hands were diverse in form, for the illusion to be effective the hand does not need to be true to life necessarily. Some hands were made purposefully alien for experiments and seemed to work effectively. I wondered if participants are more likely to connect with a hand that they made themselves?
Additionally, we found that you can also remove a finger of the clay hand while maintaining the tactile stimulation routine, and move it away from the hand and reposition it! With clay it is also possible to try squashing and reshaping the hand, making holes in the hand. Rejoining parts of the hand into different places.