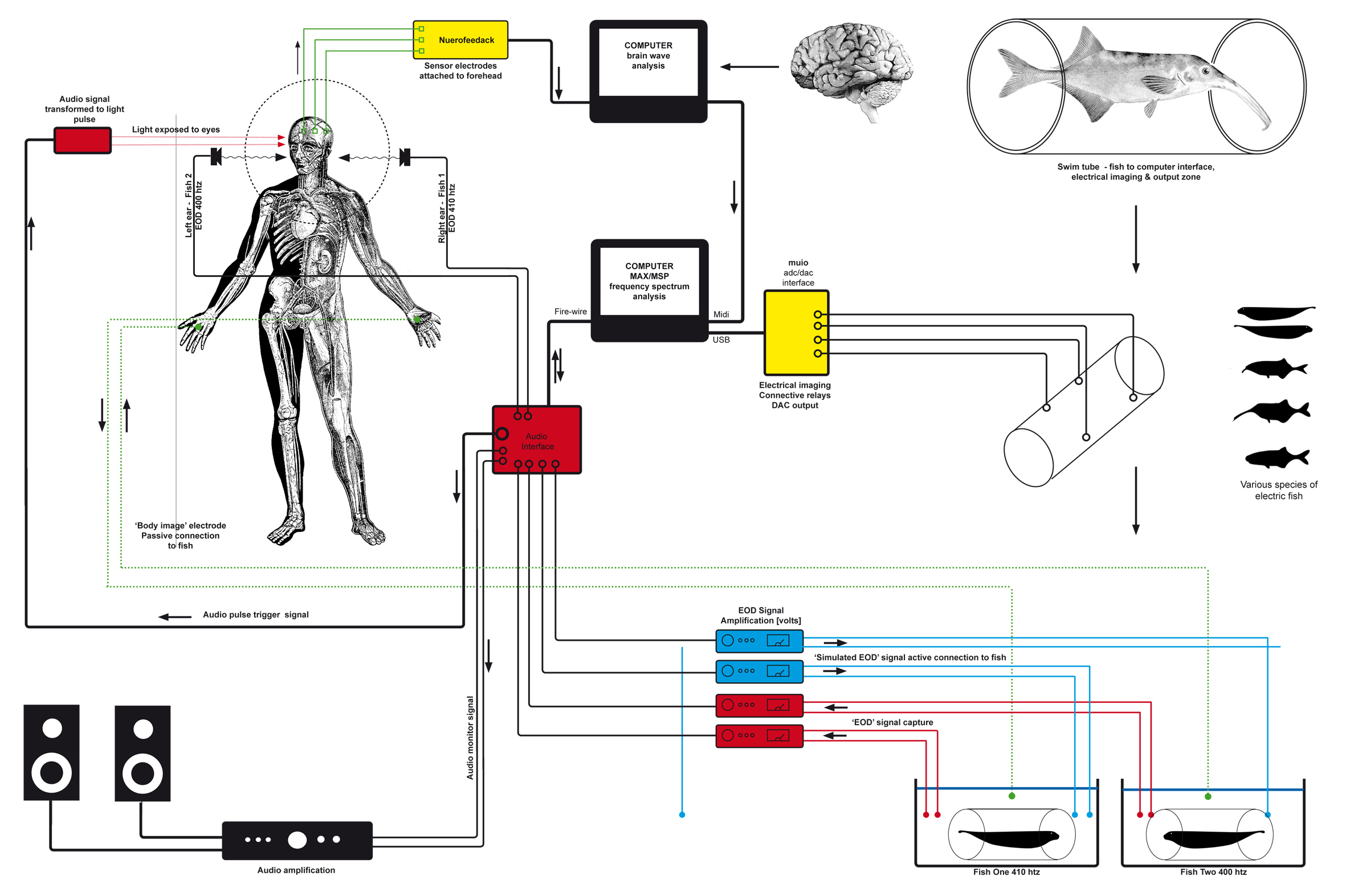 This project formed the basis for my PhD proposal. Initially, it was an investigation into the behaviour of electric fish, which have the ability to navigate and communicate using electro-perception. I investigate ways in which to communicate and interact with them. , I soon started to become interested more widely in perceptual and psychological experiments with humans; themes of interconnectedness, extending sensory perception. More specifically a notion of the 'body as electric image'.
" The ENKI project was developed through an Arts Council, International Artists Fellowship, Pepiniere programme, Paris, with Centre National de la Recherche Scientifique (CNRS) France in 2006. It has been shown in the UK Europe including, Dutch Electronic Arts Festival, NL, CAAC, Seville, Spain 2007. International Festival of Art /Science /New Technologies, Prague, the European Forum for Emerging Creation Luxembourg and Spectropia08, Riga, Latvia. Most recently in 2009 – 20010 'ENKI Experiment 3' was commissioned by Arts Catalyst for the show Interspecies." shown in London and Manchester and most recently for my solo show at Kapellica Gallery, Ljubljana, Slovenia 2013

Diagram of the experiment set up for the installation at Corner house, Manchester 2009
"ENKI was a series of experiments in bio-interfacing between humans and certain types of Electrogenic Fish. Ultimately this is achieved through psycho-acoustic audio and visual entrainment as a means of modulating human emotional state. During this process, bio-electrical activity is monitored and used as a means to create a feedback loop between organisms.
The research aims to study the interaction between bio-electrical fields of both species [human and fish] specifically the way in which these fields modulate and the means of controlling them. It also aims to discover if it is possible to create a harmonious state of interaction that can be of benefit to both species, no matter how different."

Diagram showing the arrangement of the final experiment See the documentation here...